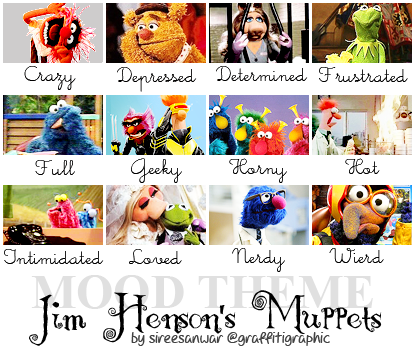 See Them All
Mood Theme Code
Dimensions for each image is 100 x 60 as shown in the coding above.
Image Zip
1.
Download
the moodtheme to your computer.
2.
PhotoBucket.com:
Upload moodtheme to a PhotoBucket folder specifically for that theme (separate folders make things less confusing).
3.
LJ Admin Console:
Go to the
LJ Admin Console
.
4.
Commands:
In the enter commands box put:
moodtheme_create "MuppetsMood by graffitigraphic" "MuppetsMood by graffitigraphic"
I like to make name and description the same. Then click
execute.
5.
Get the #:
You will see green text that tells you your attempt was successful. You will need the number they give
6.
Text File:
Now you can modify the text code above in Notepad. Change 000000 to the number given to you and then change FOLDER ADDY to the beginning part of a direct code to one the the images in the theme from your PhotoBucket
7.
Coding Copy:
Now that you've finished modifying the coding, copy all of it and go back to the LJ Admin Console and insert it into the Enter Commands box. Hit Execute.
8.
Success?:
A long list of successful date should come up.
9.
Double check
your work by going to
Custom Mood Theme Editor
and click on your moodtheme to see if all the images are coming up.
10.
Adjustments:
If 1 or 2 images aren't working you can go into edit from the Mood Theme Editor and fix these images.
See Directions at
Layout Lounge's Mood Theme Post
. Need a little direction when it comes to installing a mood theme? Check out the
Mood Theme Section
at
layout_lounge
.
PS: I think I'm going to make some icons from these images too... so come back!
:
creative